In the mid-noughties, Emily Blunt dated Michael Bublé, the man who you have seen in concert a least twice with your mother and aunt. The then-English actress – she assumed American citizen recently – and Canadian singer were love's young brunette dream, until they split in 2008 after three years together. So enamoured was Bublé of The Devil Wears Prada breakout star, he penned a hit song in her honour, Everything. When the relationship ended rumours of cheating on Bublé's part persisted, mainly because of photos online depicting the singer in bed with another woman. Something the now married singer freely alludes to.
"I was a jerk and I was careless and reckless with the hearts of women I was with," he told Canadian talkshow eTalk earlier this year. "And I got my karma. I earned it. I got my butt and heart kicked and it hurt me enough that I looked in the mirror and I didn't want it to happen again… The reason to be a good guy isn't for the person you're with, it's for you." Some free Lad Philosophy of a Monday for you there.
Blunt went on to date fellow actor John Krasinski. They married in 2010 and gave birth to a daughter Hazel last year.Meanwhile Michael married Luisana Lopilato in 2011 and is father to a son, Noah. I think we can safely saw everyone has moved on. There are toddlers on the scene. And yet.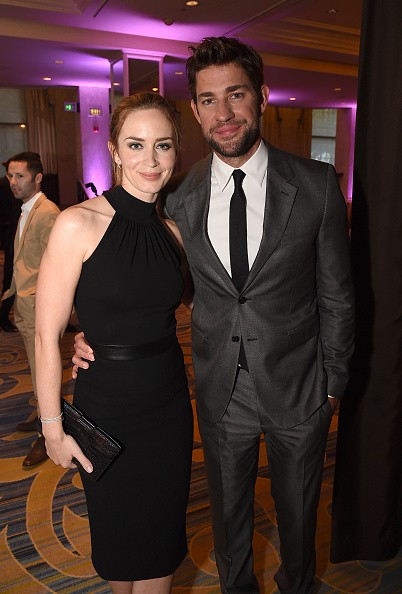 Earlier this week Blunt, who is the upcoming star of thriller Sicario, was a guest on Howard Stern's famous radio show when her relationship with Bublé was put on the agenda. Stern basically brought up the entire unfaithful thing, which is the opposite of how one behaves at a dinner party, and Emily response was a masterclass in restraint. Especially when Stern talks about them being perfect together and so in love. (Did John Krasinski listen to this?)
Emily replied to Stern's pushing queries with, "I don't know. It's complicated. Now I'm going red because I never talk about it… I never want to talk about it."
It's a bit much, bringing all that up, isn't it? We think Emily should give Kristen Stewart a call, just so they can ask each other over whiskey in a hotel bar, "When does it end?"

What do you think? Add a comment here